To launch my panda clothing line, JE Tees, I am running a competition on my FB page here:
www.facebook.com/JessicaEmmettArtist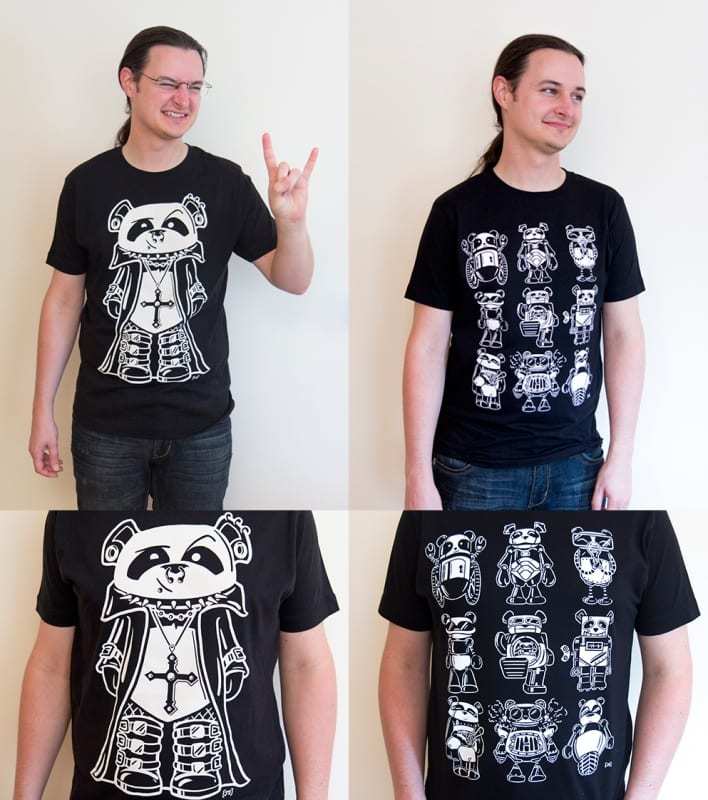 If you'd like to see how the Panda Robot T-shirt was printed from start to finished read my blog post [My visit to October Textiles Ltd].
Competition rules
– There will only be one winner.
– The winner can choose only ONE design (Panda Robots OR Goth Panda) in their desired size (please refer to the size guide below).
– Postage will be free as long as you don't live somewhere that even the UK Royal Mail can't get it =P.
– If you are under the age of 16 you must have prior permission from a parent or guardian to enter.
– You must like the FB image plus either leave a comment by writing "PANDA" or share the image publicly on your wall (it must be public or I won't be able to see your name to enter you into the draw).
– The deadline is 1st Oct 2014 5pm UK. Good luck! =)
– If the winner does not replay to my message after 4 days or decide to pass I will chose a new winner.
Buy or Reserve
Once the competition is over I will make the rest of the two t-shirt designs available to buy. I only have 2-3 in each size, so depending on how well they do, this may be your only opportunity to own this design. If you are really keen to own one and don't want to rely on the competition then please email me to reserve a design and state the size you'd like.
I also have 1 (and maybe 2 if I can be convinced to part from it) very special hoodies with the Panda Robot design which is NOT part of the competition. Only two have been printed! But is available to buy straight away unlike the t-shirts! UPDATE: M size hoodie now sold and off to a nice home, only XXXL hoodie left. To reserve a t-shirt or buy a hoodie on a first come, first served basis, please email directly:
jess@jessica-emmett.com
T-shirt – £26 each + delivery
Hoodie – £40 each + delivery
Delivery = (UK £3.90, Europe £8.70, Zone 1 £9.75, Zone 2 £10.05 as defined by the Royal Mail)
Once the competition is over I will contact people that have reserved with payment details (prob via paypal).
Sizes Guide
I have chosen high quality, ethically produced clothing brands to print on, Continental & Stella Stanley. The sizes are in UK sizes, but please choose carefully. Width is 1/2 chest size.
Men's Classic jersey t-shirt (Continental N03 – 100% Combed Cotton Jersey 165g):
S – Length 27.5″ – Width 19.75″
M – Length 28.25″ – Width 20.75″
L – Length 29.25″ – Width 22″
XL – Length 30″ – Width 23.5″
XXL – Length 30.75″ – Width 25.25″
Women's Classic Fitted t-shirt (Continental N02 – 100% Combed Cotton Interlock 240g):
S – Length 22.75″ – Width 16.25″
M – Length 23.5″ – Width 17.25″
L – Length 24.5″ – Width 18.5″
XL – Length 25.25″ – Width 19.75″
Men's Zip up hoodie (Stella Stanley Tours STSM617 – 85% Organic ring-spun Combed Cotton 15% Polyester terry unbrushed fleece – carbonized 300 GSM):
– Hoodies NOT part of the competition
– My has been a size S as long as I've known him, but he felt the M hood was fine for him, over the top of a t-shirt. So you might want to take than into account when sizing.
M – Length 68cm – Width 53.5cm (SOLD)
XXL – Length 74cm – width 62cm