After Adam left the real work began. I was joined by two other Chinese adult adoptees from the USA. Mother's Choice put on a on so many event for us plus the two art workshops I was due to co-lead. We did many talks and Q&As. I know I wont be able to list all the events, but here have been some of the most memorable:
Q&A at Chinese International School (parents and teachers) – After all the talks I've done with parents, this has to be the most intersting for me. The reason is that in general most parents that have adopted have the same concerns… and the same questions are asked, to a point where a good book should be written (though no doubt I'm sure there is one already). Cos we were talking to parents that actually had teen adoptees they actually asked harder and more interesting questions… the reason is a lot of the time people think of adoptees as children… the truth is we grow up =P. I dont think anyone has asked me what it's like for me as an adoptee now I moved away from home and maybe where my support system is then… maybe one day someone will be brave enough to ask =P.
Screening of Tickets (Chinese film) – A new fictional film made by adoptees about adoption was extremely moving, while using beautiful landscapes to look at a tracing story. I very rarely let my mind wonder about my birthmother, but after it finished Iheard a lot of snivels and sniffs from the audience… waiting for it to come out on DVD.
Meeting the pregnant teens – part of Mother's Choice host housing for pregnant girls. Three of us meet with about 12 of them and told our stories. They were a little shy, but they asked many questions and allowed us to also ask personal questions. I was surprised at how young some of them were… and especially at the openness of the centre that housed them… they explained their "options" and adoption did not have to be the finial outcome, which i totally agree with and respect. It was just one of those moving moments. Birthmothers are very often forgotten past the initial adoption, and it was a touching reminder to me.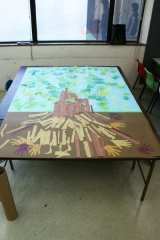 Workshops – I felt in my element. Even though I can talk the ear of most people, seeing kids be creative was just he icing on the cake of a long and emotional trip. I was amazed how open the families were about their adoption and how they handled some quiet complex issues without the workshops. Also it was the first time in the whole trip that I was able to see the children that the whole event was focused around, it just made the Festival more real for me. Also it was interesting to to co-lead the workshops with another creative Chinese adoptee writer.
Meeting my social worker – Though some random events I ended up being put in touch with the social worker that delt with mine and my sisters adoption. She remembered me and my sister and parents… amazing. Just before my trip I'd put in my request to root trace… of couse there was a lot of info that she could not remember… and she knew nothing about my birthmother… but she helped me fill in the context of the time & history I was adopted, the situation with Vietnamese refugees and adoption within HK. She also made me think about the situation of some of the Vietnamese refugee women given birth to children… pretty much what I had thought, but now realized in a little more detail. During Adoption Festival I learnt that these days there was really only a handful of adoptions to the UK from HK (as a posed to from china). I was shocked, but they only do hard to place children overseas from hk to the UK these days, and most healthy children are domestically adopted which is quiet a contrast to international adoption from the Mainland. I would have counted as domestic since my parents lived there at the time.
I haven't been able to totally take in the trip. I met so many people and learnt so many new things about adoption. I have really had a burst of new ideas for projects and workshops… and I was so thrilled Mother's Choice decided to invite me to their historic event.